[Game] Together With A Cool Maid! ver 20.09.29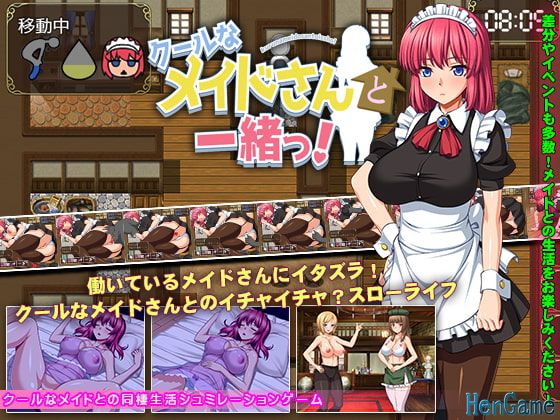 Together With A Cool Maid! ver 20.09.29
---
Overview Together With A Cool Maid! ver 20.09.29:
[Story]
The protagonist loses both his parents to an epidemic, and must begin a new life in a an
old rickety house with the only maid who came with him.
[Game System (Simulation Game)]
The maid is busy all day with chores.
During that time, you might poke around in her business, take on an adventuring job,
maybe even gamble, and get money to buy her presents and make her happy.
This is a slow-going daily life game.
[Relaxing Difficulty]
There are no money deadlines to meet, and you don't game over when defeated in battle.
Feel free to play at your own pace!
[Tease Your Maid!
While your maid is doing chores, if you do some playful sexual teasing,
she might be willing to laugh and overlook your antics.
If she's feeling frisky, perhaps she might be up for a little bit more…?
[Fully-voiced Heroines
– Main heroine – Maria (Maid)
The maid was raised in your old household, and has cared for you since you were a child.
She's usually cool and expressionless, but she is by no means unemotional.
It's just that the protagonist is her first partner, and she has trouble showing her feelings.
CV: Pako Shirakawa
– Sub-heroine 1 (Receptionist)
The Guild receptionist, who acts like an older sister to the newbie adventurer protagonist.
CV: Pako Shirakawa
– Sub-heroine 2 (Dealer)
The determined casino girl at the adventurers guild, who always challenges the protagonist.
CV: Pako Shirakawa
[Other]
Contains lots of illustration variations.
Changelog:
Added the naked apron scene.
Menu and UI translated. 3000+ story line is reviewed.
Add translation for gamble and some untranslated UI. Fix some of the translation.
Original title: クールなメイドさんと一緒っ!
Language: English, Japanese
Developer: Studio Neko Kick
Release: Sep/29/2020
Censorship: Censored
OS platform: Windows
File Size: 332.71MB
Download Together With A Cool Maid! ver 20.09.29 Free:


[post_ad]
---
Screenshot: